12-03-08
In 1979 and 1981 a VW 181 team tried to drive the Paris-Dakar Rally. Both cars never reached Dakar (but that's just a minor detail). The white car participated in 1979 and was equiped with a female pilot and co-pilot (Comte/Rijswijck). The red car, nicknamed Tazagou, drove the 1981 edition (Moroux/Terasse). Many thanks to Sebastien from Dakardantan for the pictures.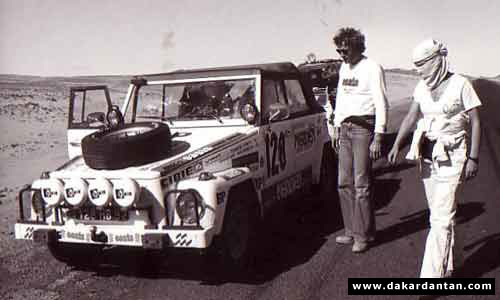 06-03-08
Don't be misleaded... for Malaysian escortgirls you're on the wrong site. I can only offer you a picture of 2 Volkswagens escorting Malaysian Royalty. Seriously... it looks quiet silly.
17-02-08
03-02-08
Still "Under Construction", but it is a fact: there will be a third edition of our annual Model meeting.
23-01-08
Fries doing things...
19-01-08
Chris wants his 181 high and dry. Who's next?
16-01-08
They look like vw bus mirrors but the 181 had a slightly different mirror. If you take a good look, you will notice that the support is longer. The reason for this: low mounting point on the 181 door/body. Early 181 had those mirrors on the doors, later models on the panel in front of the door. So without the doors, a late 181 had the best visibility.